Children's entertainment in Summer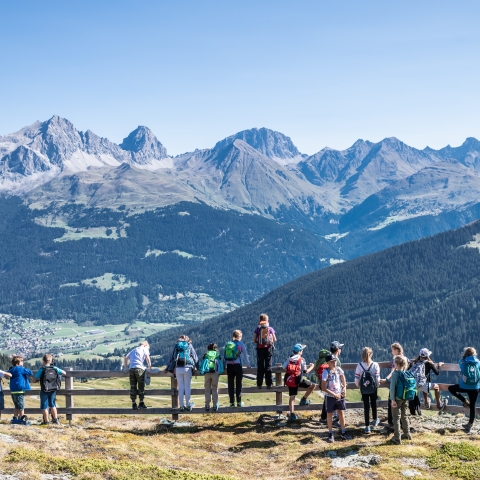 Having fun while learning about the fascinating world of nature around them is what our Pinocchio Club for kids aged 3 to 12 is all about. Exploring and experiencing, with a water labyrinth and children's circus – there's something new to discover every day.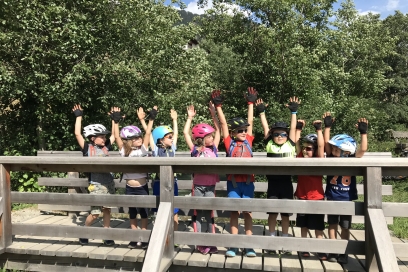 Kids Bike League.
Bike school Savognin
The bike school Savognin is the perfect place for kids between 4 - 12 year to make their first steps into biking.
Pinocchio Express
The Pinocchio Express on Lai Barnagn
The Pinocchio Express – Savognin's attraction. The train ride is a great experience for adults, too, and lots of fun is guaranteed for both young and old alike.
Train schedule
The Pinocchio Express runs every Tuesday and Thursday from the Lai Barnagn bathing lake on a short tour through Savognin. You can hop on board from 1:30 pm to 3:30 pm from 4 July until 24 August and 3 until 19 October 2017. The ride lasts approximately 35 minutes. Final boarding at 3:00 pm at Lai Barnagn.
Library
The Biblioteca populara Savognin and the Biblioteca Surgôt Bivio libraries offer a wide selection of books and other entertainment options for young and old alike.
Opening times in Savognin:
Monday and Wednesday from 4:00 pm to 6:00 pm (in winter time on Wednesday from 3.00 pm), Friday from 4:00 pm to 7:00 pm
+41 81 637 14 77
Opening times in Bivio:
Monday and Friday from 4:00 pm to 6:00 pm (on Wednesday as well in the winter high season)
Children's gear for rent
Are you missing something? Don't worry! The Savognin Tourism Office has children's gear for rent. We are happy to assist you at any time with our wide array of children's equipment to find exactly what you need.