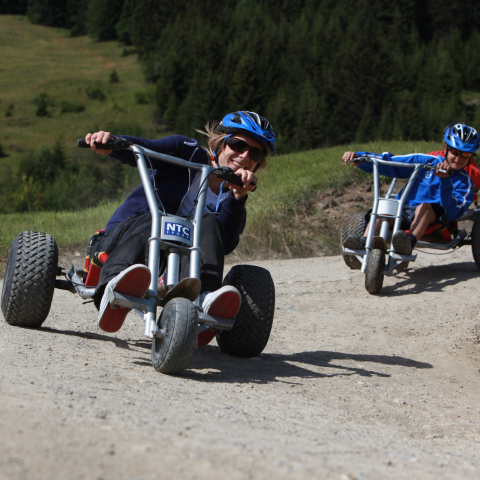 Mountain carts are downhill funsport vehicles ideal for everyone – whether they are Sunday drivers or daredevils. Hydraulic dual-circuit brakes, a low centre of gravity and a wide wheelbase guarantee safe fun.
Tours:
Mountain carts can be used on the following routes:
No. 1 Tigignas - Savognin
No. 3 Somtgant - Tigignas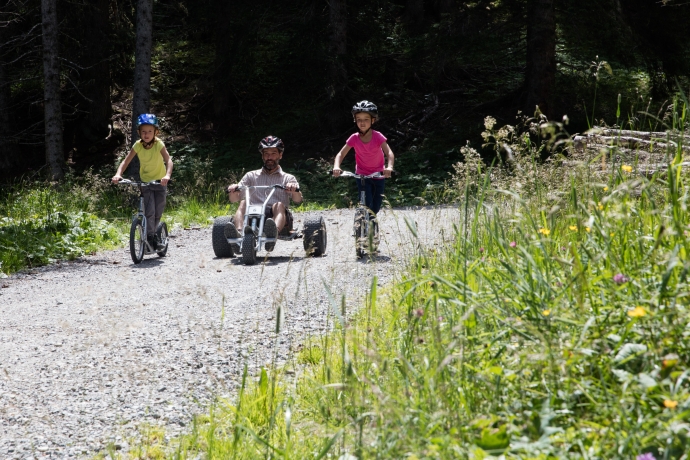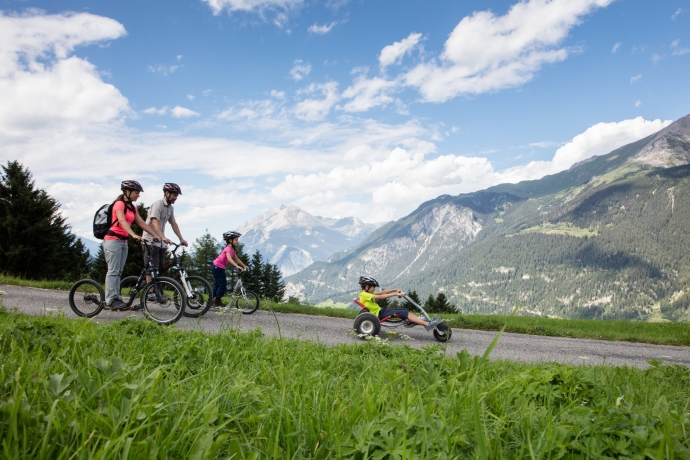 Show all 5 images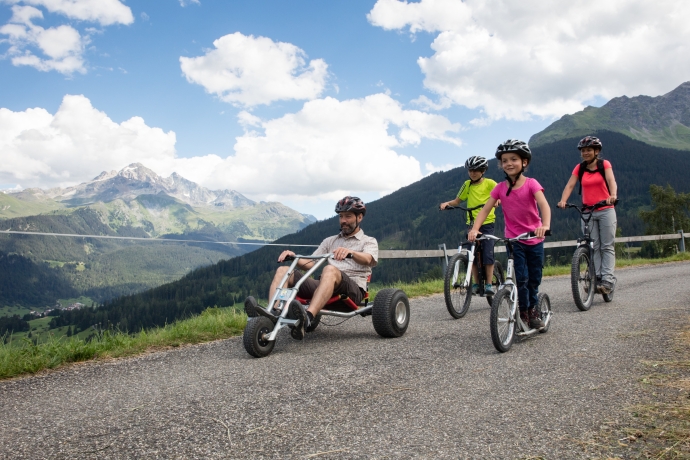 What you need to remember:
Use marked routes and roads only – avoid meadows and fields.
Be considerate of hikers and walkers.
Adjust your speed according to your own ability and the conditions.
Pay attention to oncoming traffic (farm and logging vehicles). Keep to the right!
Do not disturb wildlife or farm animals in the Alpine region.
Obey all signs.
| | adult (with Ela Card) | kids (with Ela Card) | adult (without Ela Card) | kids (without Ela Card) |
| --- | --- | --- | --- | --- |
| 1 hour / ca. 1 ride | 39 CHF | 29 CHF | 54 CHF | 31 CHF |
| 2 hours / ca. 2 ride | 69 CHF | 47 CHF | 80 CHF | 49 CHF |
| 3 hours / ca. 3 ride | 89 CHF | 59 CHF | 104 CHF | 61 CHF |
| | 1 hour / ca. 1 ride | 2 hours / ca. 2 ride | 3 hours / ca. 3 ride |
| --- | --- | --- | --- |
| adult (with Ela Card) | 39 CHF | 69 CHF | 89 CHF |
| kids (with Ela Card) | 29 CHF | 47 CHF | 59 CHF |
| adult (without Ela Card) | 54 CHF | 80 CHF | 104 CHF |
| kids (without Ela Card) | 31 CHF | 49 CHF | 61 CHF |