Naturlehrpfad Albula
Veia digl Pader 04: Crousch alva sen fons cotschen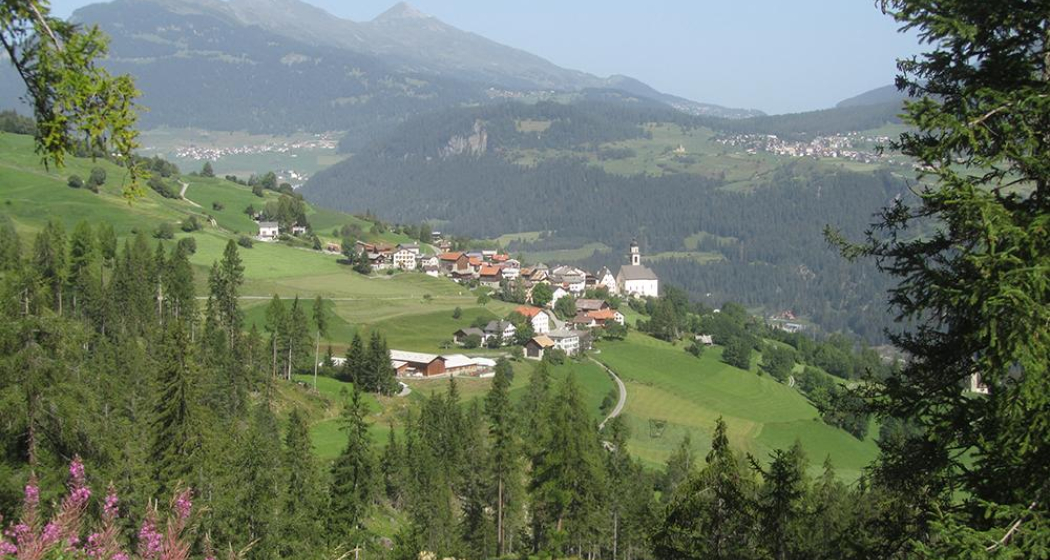 The audio file can be found at the back of the pictures.
Description
Crousch alva sen fons cotschen
Cun catter bratschs, te catter pievels
ambratschas, Crousch, an pasch e privels.
E ls èn signias cugl ties signal,
Crouschaders veirs d'en ideal.
Or d'fons flammont, scu en barnia,
cugl sanc digls noss eroxs cotschnia,
prueschas, alva Crousch d'amour:
or d'Contschnas-Rosas, alva flour.
Gl'è stitg e stgeir! Orcans smanatschan,
bandieras sainza Crousch sgulatschan!
Discordia sparta frar da frar.
Vot Cain puspe sies pal smanar.
Tras neivlas rompa, Crousch da glorgia,
Sclarescha nous tar la victorgia.
Noss colms on dets d'angiramaint
a Tè, simbol digl spindramaint.
Fr. Alexander Lozza
The white cross in the red field
Four-armed, cross, you hold enclosed
of the tribes four, as Confederates!
To your call in joy and sorrow
ready for any service on the cross.
From flame-red field the gluten,
which heroes consecrated in bleeding to death,
the Swiss cross rises brightly and stands
as edelweiss in the rose bed.
When storm and dying conspired,
banners without a cross are lost,
and discord separates us further and again.
The club curse begets fratricide.
Break through the mists, cross of flags,
shine us forward on the road of victory.
And reason and ridge praised in the oath:
we remain free in God's footsteps!
G. Thürer (translation)
Responsible for this content Verein Parc Ela.
This content has been translated automatically.

This website uses technology and content from the Outdooractive platform.