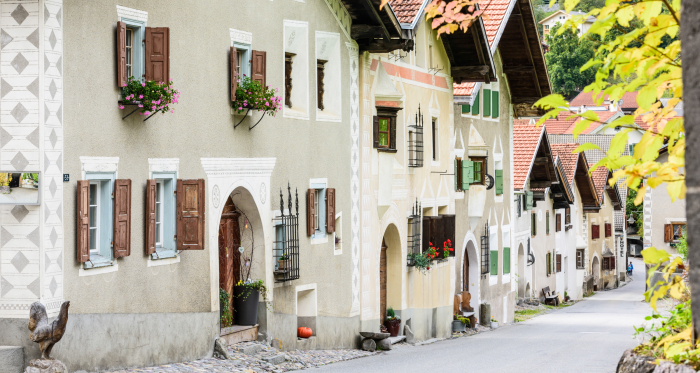 Discover the Engadine houses of Filisur on the interactive village tour "FiliTour".
Filisur in Parc Ela is an Engadine village with a townscape of national importance. The historic village centre consists almost exclusively of Engadine houses. For half a century, almost all of them have lost their original function as a farmhouse. Most of them have been renovated and expanded taking into account the preservation of historical monuments.
On the FiliTour you can discover 14 of the magnificent Engadine houses interactively. In text, image and sound you will learn first-round stories about the houses, their architecture and their former and present inhabitants. The audio files can be found at the back of the pictures. 
---
Destination
Dorfstrasse 78
Coordinates
46.673712, 9.684903
Description
Important: Save the route offline in advance using a Wi-Fi connection.  
Quiz: Open the FiliTour under "Quiz Tours". With each house, in addition to texts, pictures and audios, you will also receive a question with three possible answers. If you answer the question correctly for a house, the next house, where information is available, will be unlocked. At the end, you will participate in the annual raffle with the solution set. Further information can be found on www.parc-ela.ch/app-quiz.
Guide: Open the quiz tour and leave it open. You will be informed by your smartphone when you have arrived at a house with audiovisual information. For orientation, there is also a small information board at each house. In addition, you can locate the houses on the map. The audio files can be called up under the media under the images. 
A detailed guide can be found in the "Interactive Tours" section under "How it works"!
FiliTour at home: If you want to watch the FiliTour at home, you can not take part in the quiz. Then open the FiliTour in the "Tours" section and simply select the individual houses with the corresponding information on the map.
Geheimtipp
Charging your smartphone's battery before the tour and pack your headphones!
Directions
The FiliTour starts at Dorfstrasse 12 (corner of Restaurant Schöntal) and ends at the village exit at Dorfstrasse 78. From Filisur station, a footpath leads to the village. If you read and hear all the information, you will need about two hours for the FiliTour.
Responsible for this content Verein Parc Ela.
This content has been translated automatically.