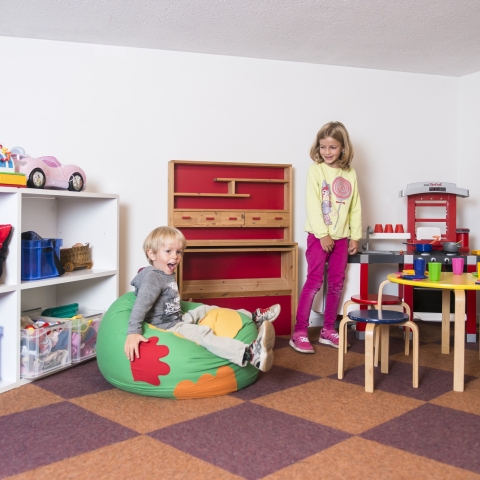 Have you forgotten the children's gloves at home because of all the packing stress? No problem, with us you will find everything to look after your children.
Whether babysitter, library or children's animation. Here you will find everything you need for a relaxing family vacation. The tourist office rents out board games as well as baby carriages, high chairs and baby beds.
Fun and games in Surses, child care in the evening
A family vacation with children is fun. Maybe you would like to enjoy a fine dinner without children? Then the Biviolino Kids Club in Bivio is the right place for you. The following childcare activities are planned under the motto "Play & Fun".
Evening care at the Biviolino kids club:
Wednesday evening: from 18.30 - 22.00, childcare incl. pizza evening.
Friday evening: from 19.00 -22.00, child care without food
More information and registration online at www.schneesportbivio.ch
Babysitter
Want to relax and spend the day or evening alone with your partner? Tourism Savognin Bivio Albula AG will be happy to arrange a child-friendly babysitter for you.
Tourismus Savognin Bivio Albula AG
Stradung 42
CH-7460 Savognin
+41 81 659 16 16
ferien@valsurses.ch
www.valsurses.ch
Library
The biblioteca populara, Veia Grava 2 in Savognin and the biblioteca surgôt in Bivio offer young and old a wide range of books and other entertainment to borrow.
Opening hours Savognin:
Monday and Friday 14:30 - 18:00
+41 81 637 14 77
Opening hours Bivio:
Monday and Friday from 16:00 to 18:00
+41 79 304 47 57
Ludothek
200 board games are available for our big and small guests to borrow at the Savognin tourist office. So even on the rare days with bad weather there will be no chance of boredom. The children's and board games can be rented for a fee of CHF 3.- per game. In addition, there is a security deposit, which is returned to you when you return the games. Have fun playing!