Top 5.
Activities for young children from 0-2 years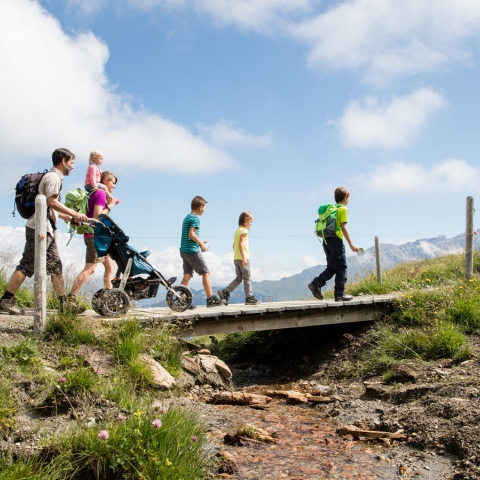 Hiking with the baby carriage? No problem! In Val Surses young children can enjoy and experience the diversity of nature on hiking trails suitable for baby carriages.
1. hike from Tigignas to Savognin
This easy hiking trail, which is suitable for baby carriages, leads from Tigignas via the Maiensäss settlements of Fotgs and Parnoz to Savognin. On the way you will also pass one of the most important baroque buildings of the canton, the church Son Martegn in Savognin with a completely painted round dome.
2. barbecue place at the Geissenhof Rona
The generous barbecue area is a highlight for every family who wants to comfortably grill their cervelats by the fire. After the meal, the children can let off some steam in the nearby stream. A highlight for every child!
3. playground and barbecue Lareschs
On a small circular trail through the beautiful larch forest, a wooden hut, various wooden games and beautiful wooden forest creatures are waiting for little children. While the children let off steam, the parents can rest on the wooden loungers.
4. sheep shearing
Every year the sheep are sheared on the village ground and you can be there with your family. In addition, there is a children's program by the Pinocchio Club, where children can learn all about the sheep and alpine life.
5. bathing lake Lai Barnagn
The Lai Barnagn bathing lake in Savognin offers fun and games for children of all ages with its playground on the water and on the ground.