Transport.
Bike & hike bus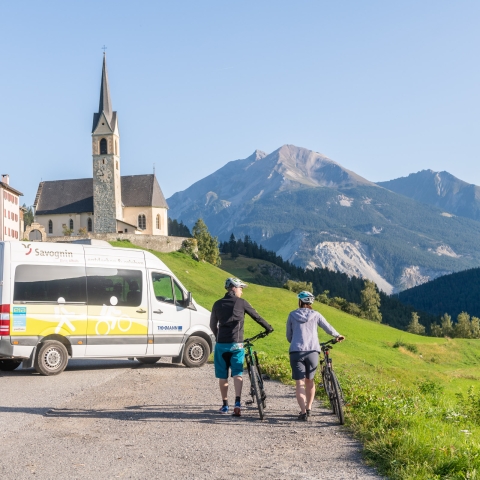 Travel comfortably by bus from Savognin to the most remote valleys and up to the most beautiful alps in the region. In the summer season, the bike and hike bus takes hikers and bikers five days a week to the best starting points for tours.  
A minimum of four participants is required per ride. The bike shuttle can be booked exclusively for groups of up to 13 people for half or full day including driver, depending on availability. Registration for a transport with the bike and hiking bus is required until 17.00 the evening before.
Please note that masks are mandatory on the bike & hike bus!
Timetable bike & hike bus
| Day | Place | Time |
| --- | --- | --- |
| Tuesday | Pensa | 7.30, 9.00, 10.00 from Savognin / 16.00, 17.00 from Pensa |
| Wednesday | Plang la Curvanera | 8.00, 10.30 from Savognin / 15.00, 17.00 from Plang la Curvanera |
| Thursday | Radons / Val Faller | 7.30, 9.30 Uhr from Savognin to Tga (Val Faller) / 8.30, 10.30 from Savognin to Radons / 16.00, 17.00 from Tga (Val Faller) |
| Friday | Pensa | 7.30, 9.00, 10.00 from Savognin / 16.00, 17.00 from Pensa |
| Saturday | Munter / Cre digl Lai | 8.30, 9.30 from Savognin to Munter / 15.00, 16.00 from Cre digl Lai |
Registration & tariffs
The bike and hiking bus costs CHF 10.- / children CHF 5.- per person, with the guest card CHF 5.- / children free.

Bike transport free of charge, max. 4 bikes per trip (registration required)

Registration required at the Savognin guest information office by 5 p.m. the evening before. Tel. +41 81 659 16 16