So close to the summit happiness.
Ski touring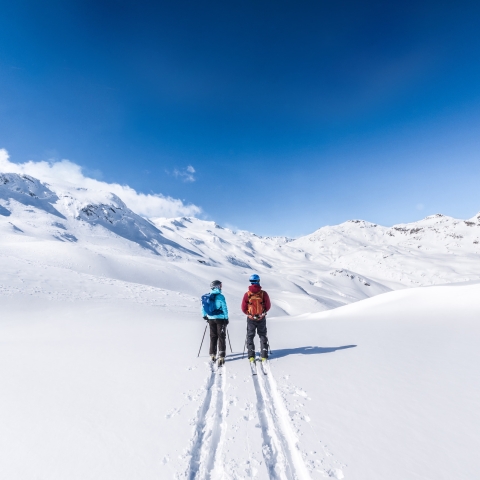 Bivio. Few other places in this world offer so many possibilities to enjoy an unforgettable ski tour. You can start skiing directly from the Julierpass road or take the first meters of height comfortably at the ski lift. With every step you feel more of the peace that only the mountains can give you.
By the way: You will also find great ski touring mountains otherwhere in Val Surses. The ideal thing to do is to ask our mountain guides. They know where the summit happiness lies and the dream descent is waiting.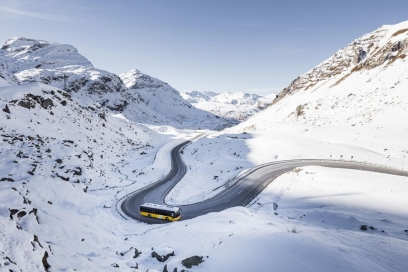 Post bus inclusive.
Guest card Val Surses
If you stay one night or more, you will receive the Val Surses guest card. With this you can get from A to B in the Val Surses for free. Perfect for getting from Savognin to Bivio, or from Bivio to Rona.
Freeriding in Bivio
For freeriders and those who would like to become one.
The three ski lifts in Bivio take you directly to an awesome freeride area. Different off-piste slopes and fascinating valleys, which animate you to jump like natural halfpipes, invite you to an unforgettable adventure.
Don't you have any freeride skills yet? Then you can benefit from various special courses such as freeriding, carving and deep snow skiing at the snow sports school of Bivio or learn basic knowledge about avalanche risk prevention (new also ISTA training).

So you can enjoy the slopes at full speed. Come to Bivio and convince yourself! It's worth it.
Respect your limits
Wildlife rest areas and wildlife sanctuaries protect wild animals from excessive disturbance by human activities. Even the unexpected appearance of a snowshoe hiker can be problematic for wild animals in winter: escaping costs a lot of energy, which is then missing for survival. For this reason, wildlife rest areas may not be entered in winter, or only on specially designated routes.
Four rules for more nature:
1. respect wildlife rest areas and wildlife sanctuaries:
They provide wildlife refuges.

2. stay on paths and designated routes in the forest:
This allows wild animals to become accustomed to humans.

3. avoid forest edges and snow-free areas:
They are the favorite places of wild animals.

4. keep dogs on a leash, especially in the forest:
Wild animals flee from free-roaming dogs.