So close to the Wild West.
Riding in Val Surses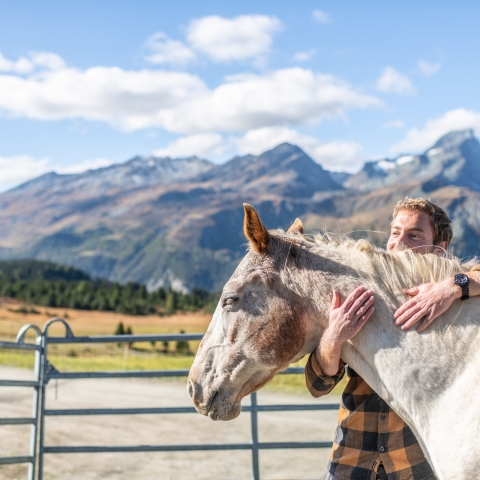 Treat yourself to a comfortable carriage ride or swing yourself on the horseback. Riding in breathtaking natural idyll is possible in Bivio and Savognin.
Sarah Brummer, Parsonz
On Sarah Brummer's organic farm in Parsonz, children and adults can take weekend courses, private lessons or special courses, once or regularly. Sarah trains the horses according to the Natural Horsemanship program: The focus is on the natural and conscious handling of the horse. You meet the animal in a friendly manner and always proceed cautiously and sensitively.
Alfons horse ranch Alp Flix
Alfons Pferderanch is located on the plateau of Alp Flix. This is a perfect starting point for horseback riding tours – from easy to demanding. On the back of Alfons' reliable and absolutely sure-footed horses, you can roam the breathtaking scenery of the flixer high moorland landscape. Whether spring, summer or autumn, the unique diversity of flora and fauna will delight you.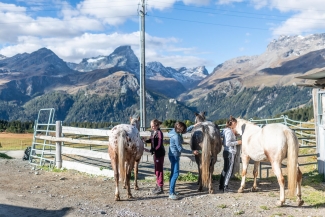 Horse trekking Bivio
Get up and go. A special experience is the 2- or 3-day trekking on horseback over the Septimer Pass into Bergell with overnight stay in the cosy "Bergellerhaus". Or how about an evening ride on the Alp Natons? The Hotel Solaria in Bivio will be happy to provide you with further information.
Sunset ride Bivio
In the summer season every Tuesday afternoon you have the opportunity to go on a sunset ride with Jenny. 2. 00 p. m. , duration approx. 3. 5 hours, CHF 90. − / children (12 – 16 years) CHF 60. −. Registration by 12 noon the day before, call Genny Torriani on +41 (0) 81 659 19 91.
Rides and carriage rides
Carriage rides
Giatgen Arpagaus
Veia Sur Curt 3
7460 Savognin
+41 79 271 00 67
www.reiten-savognin.ch
Horseback riding and guided riding with horses and ponies
Have you ever sat on a pony? Ride a round around Savognin with the good-natured pony Tiffany or the mare Flea by Giatgen Arpagaus.
Information and appointment can be found at:
079 271 00 67
078 867 66 79
Riding with the herd of horses over the passes and through the wildness of the mountains is pure life. Nourish your own soul, ground yourself, become clear in your own being in the bond with the horses. Do you want to do this?
Sieglinde Zottmaier shares her experience and passion for horses and nature with joy. She opens a wild, holistic offer around pure, whole and joyful being.
Summer base: Alp Flix
Further information about Terra Materna