So close to relaxation.
Baths & Wellness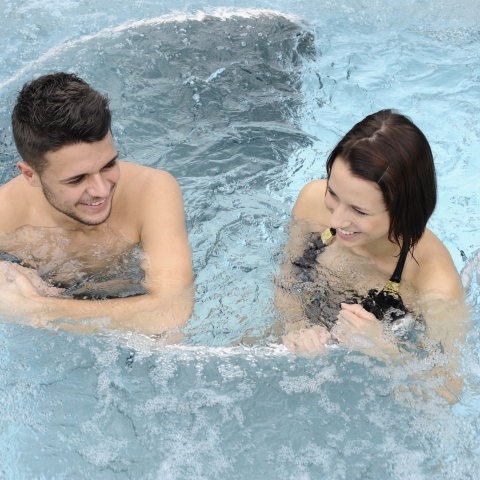 Doing sports in the largest nature park in Switzerland can sometimes result in aching muscles.
Smaller indoor pools can be found in Bivio and Tiefencastel. In addition, you can use the wellness facilities in individual hotels, even if you are not staying in the house itself.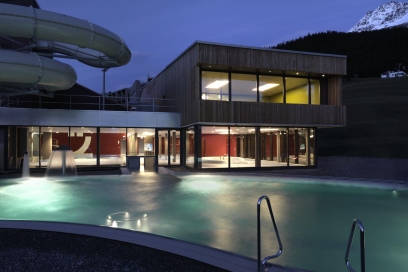 Wellness bath Lenzerheide
In addition to indoor pools, the H2Lai wellness spa has a heated outdoor pool and spa area.
Massages
Plagn Veta – health practice, Savognin
Treat yourself to a time out for body, mind and soul! For example, with a lymphatic drainage or foot reflexology massage.
Dates by arrangement
Sabrina Gantner, Savognin
Tel. +41 79 374 37 39
sabrina.schoebi@gmail.com
www.plagn-veta.ch
Thai yoga massage, Savognin
A gentle and dynamic full body massage.
Anna Barbara Rageth, Savognin
Tel. +41 78 884 97 79
annarageth@hotmail.com
SanaVita, Tiefencastel
Foot reflexology and back/neck massage.

Sabina Netzer-Cola, Tiefencastel
Tel. +41 81 681 25 52
Momentum, Savognin
Your health and exercise practice. Pain therapy according to Liebscher & Bracht. Personal training
Peggy Fuhrmann, Savognin
Tel. +41 76 706 60 47
momentum.fuhrmann@gmail.com
http://gesundheitspraxis-momentum.ch/ 
TCM - Practice for natural medicine, Bivio
Traditional chinese medicine, classical acupuncture and herbal medicine.
Dates by arrangement
Arturo Fasciati, Bivio
Tel. +41 81 684 10 27
Podiatry practice, Savognin
Medical foot care (treatment of corns, calluses and ingrown toenails) in Savognin.
Dates by arrangement
Kathrin Hefti, Savognin
Tel. +41 77 414 00 86
Classical homeopathy, Savognin
Treatment of acute and chronic diseases with classical homeopathy. Recognized by health insurance companies.
Dates by arrangement
Sarah Dedual, Veia Segantini 4, 7460 Savognin
Dipl. Homoeopath SkHZ
Tel. +41 81 684 18 18
www.sarahdedual.ch
Elsana Praxis, Surava
Different treatments such as aromatherapy, spinal massage or acupressure.

Markus Foppa, Surava, Medical dipl. masseur-therapist
Tel. +41 79 233 38 78
www.elsana.ch
Beauty Point, Savognin
Cosmetics and nail design in the former Hotel Cresta in Savognin.
Dates by arrangement
Renata Scherzinger, Savognin
Tel. +41 79 482 13 13