Church Surses
Parish Church of Son Plasch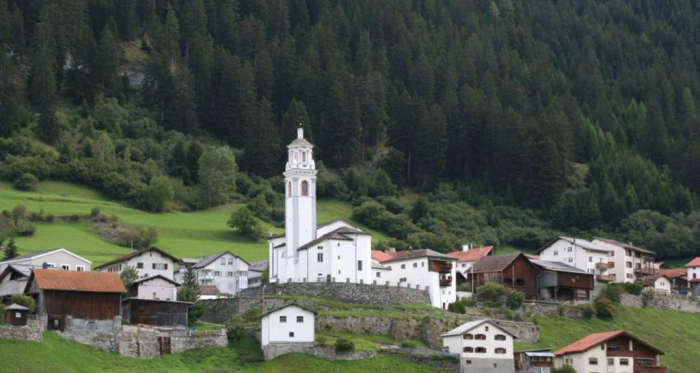 The exterior, like the Campanile of St. Blaise's Church of Tinizong, bears similarities to the St. Stephen's Church of Tiefencastel, which was built during the same period.
Parish Church of Son Plasch
7453 Tinizong
Description
The Necrologium Curiense first mentions a pastor for Tinizong in 1180. It is a royal church of its own. The patron is St. Blaise (Plasch). His cult as a protector of cattle and advocate for throat diseases was already widespread in the early Middle Ages.
The oldest building dates back to the 9th century. Further buildings followed. The consecration of the fourth church with the Patrozinien St. Blaise and Pankratius can be proved in 1463. With the arrival of the Rhaezinic Capuchin Mission in the Oberhalbstein, francesco da Vigevano, who was keen to build, took over the leadership of the parish of Tinizong for the period from 1635-1660. 
1610 a fire destroyed the main part of the village as well as the residential tower of the Lords of Marmels and also damaged the mentioned 4th church. The visitation report of 1623 mentions a dilapidated, vaulted church. It may be described as a stroke of luck that with the arrival of the Rhaekian Capuchin mission in the Oberhalbstein, the construction-loving Francesco da Vigevano took over the leadership of the parish of Tinizong for the period from 1635 - 1660.
New buildings and a baroque scheme followed. In 1663 Bishop Ulrich VI de Mont consecrated the new church with the three altars from the Gothic church.
Directions
Public Transport
By PostBus from Chur to Tinizong or by Rhaetian Railway to Tiefencastel and from there by PostBus to Tinizong.
Directions
Take the Thusis Süd exit and continue towards St. Moritz to TInizong.