Naturlehrpfad Surses
Veia digl Pader 10: La pizza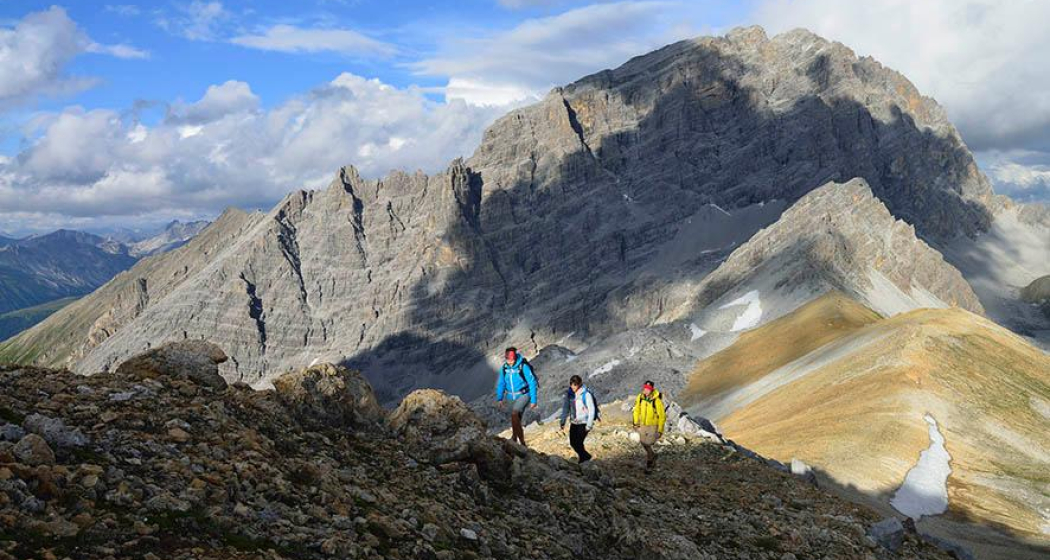 The audio file can be found at the back of the pictures.
Description
La Pizza
Segl feil d'en piz tgi for'igl blo digl tschiel,
scu'gl piz glischaint dad en stilet,
sung ma tschanto, en eremit da l'aria,
Cugls mies partratgs, sulet, sulet.
Anturn anturn gigantics colms sa dolzan,
Sen ter'igl pe, an tschiel igl front!
Cantond e ramurond, cascadas tungan
SCU orglas or d'en oter mond.
Poets e nars, entusiasmos at sbrigian:
"Cant bels igls colms, cant grondious!"
Ia betg! – l'indifferenta, freida pizza
Am fò tot trest e pansarous.
Ia pains: an curt te passas scu en neivel;
TE is an Bara Giu la Val.
L'indifferenta, freida pizza rei
sur la tia schort, te por mortal.
Ma anavant starsungan las cascadas
igl march da mort segl ties repôs...
Igls colms èn anc adegna cò; da dei
te pôssas tranter igls passos....
Fr. Alexander Lozza
The mountain
The mountain pierces the sky's blue abundance
like a dagger bright sharp steel.
I sit on the ridge, the wind to play,
alone, alone with the thought agony.
In the circle around the mountains stand like giants,
the
foot in the ground, the head in the sky!
Song of the waterfalls rushes and thunders
like organ sounds of another world.
Poets sing enthusiastically, fools shout:
"How beautiful you mountains are, how wonderful!"
I don't! – The unapproachable mountain, the cold,
He makes me think, even makes me sad!
I think; soon you will pass away like the cloud,
lie laid out in the valley, and the mountain,
the cold, unapproachable mountain, it mocks
of the lot, since thou mortal created thee, thou dwarf.
But its waterfalls continue to roar
the funeral march to your grave rest...
The mountains are still standing, even if they have been for a long time
in the realm of the returnees you also rest...
Leza Uffer (translation)
Responsible for this content Verein Parc Ela.
This content has been translated automatically.

This website uses technology and content from the Outdooractive platform.