Top 5.
Activities for teenagers between 12-15 years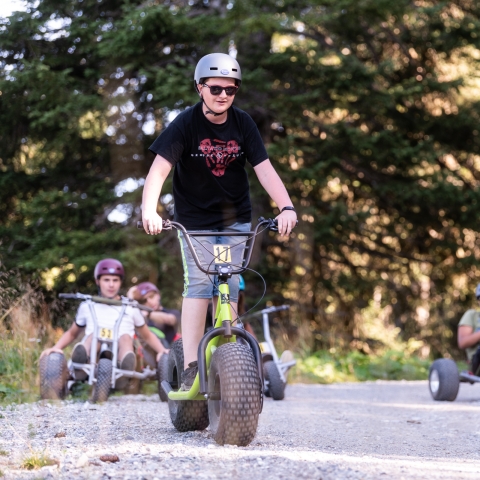 For teenagers who visit Val Surses with their parents, you will find enough activities that will challenge you in sports. For example, they can show their skills in the climbing garden or paragliding.
1. guided tour cheese factory
Many know it, the famous Savognin hay-milk mountain cheese. On this guided tour in the "Nossa Caschareia" you will see behind the scenes of a cheese factory. Learn how and where the cheese is produced, where it matures and how the milk gets from the alp to the cheese factory. Every Monday from 16.00 to 17.00. Registration required.
2. KrimiSpass Savognin/Bivio
The "KrimiSpass" is an interactive themed trail where young master detectives solve a murder mystery using their smartphones. The detectives are taken on exciting adventures full of mysteries, riddles and unexpected twists. But you should be warned: With these detective stories, you'll be right in the middle of it instead of just along for the ride!
3. multi-sports field Bivio
On the multi-sports field in Bivio, young people can challenge themselves athletically. They can use the sports field to play football, tennis, volleyball, floorball, basketball or handball.
4. guided climbing garden Bivio
Every Wednesday from July 1 to August 26 and from September 23 - October 14, 2020, young people will have the opportunity to climb the climbing garden in Bivio together with a climbing trainer.
5. open air cinema Savognin
In summer, various movies are shown on a cinema screen at the Lai Barnagn bathing lake. There is certainly something for every taste.