Top 5.
Activities for children from 8-12 years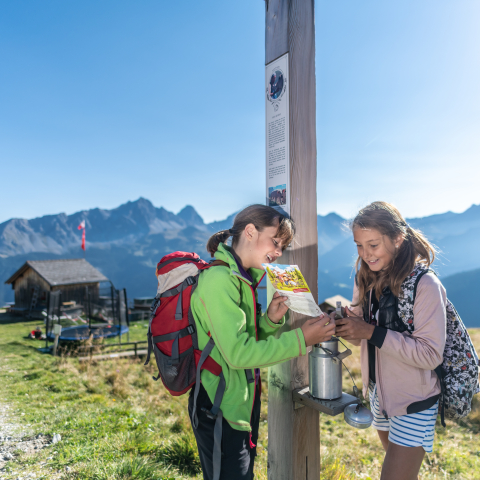 Your children are already experienced hikers or bikers? No problem! In Val Surses there are enough activities where they can put their spare energy and adrenaline to the ultimate test.
1st paragliding try-out course for children
Discover the joy of flying! Before the children go into the air, they will be pointed out by a guide a short instruction in terms of technique and safety. Then it's off to the practice area! Here you put the theory of paragliding into practice. With a little skill, your take-off attempts will progressively turn into the first small flights.
2. Lai Barnagn
In the heart of Savognin lies the crystal clear bathing lake Lai Barnagn. It always has a pleasant temperature and is the perfect place for children who are looking for fun in the water. Because here the children can not only swim, but have the opportunity to discover the bathing paradise.
3. climbing garden Bivio
Only 3 minutes from the village of Bivio is the climbing garden Motta da Crest. The climbing garden has 11 routes with different levels of difficulty. In the summer season there is the possibility to climb under professional guidance at the climbing garden incl. equipment.
4. alpine life Somtgant-Radons
At 17 information steles the children learn more about the work and life on the alp. Which cows graze where, what happens to the milk and why do the cows wear bells? What other animal inhabitants of the alp can be found along the way and what are their names?
5. visit to the rabbit paradise
In the rabbit paradise, children can watch the fluffy rabbits and the excited ducks. With a little patience, the rabbits can even be petted.