Leave no trace.
Experience with respect for nature.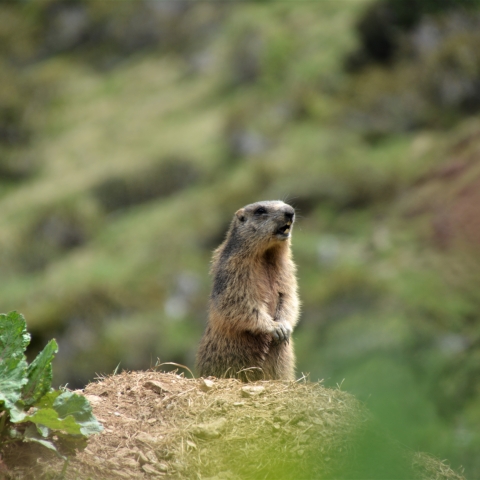 In the mountain area there are some rules of conduct that must be followed. Enjoy the nature and landscape without any worries. However, make sure to treat the environment with respect and leave no trace.
Marked trails
When hiking, stay on the marked trails. This protects the vegetation and gives the wildlife peace and quiet.
Mother cows and herd guard dogs
Keep your distance when you encounter herds of mother cows. Do not go near the little calves under any circumstances. Do not try to pet the animals. Stay calm around mother cows and herd guard dogs and do not touch the animals. Get off the bike and push it until you have passed the herd. Put your own dog on a leash and immediately unleash it in case of emergency. When encountering the animals, wait a moment until they notice you and realize that you are not a danger. Close fence passages and pasture gates behind you.
Wolves
Wolves live in the Val Surses. Wolves are generally shy animals and avoid humans. Encounters with the wolf are therefore rare. However, there are a few things to keep in mind when traveling in wolf territory.
Protected areas
Respect the protection regulations in the designated protected areas, especially in the wildlife rest areas and the hunting ban area. Various areas are designated as mushroom protection areas. Picking mushrooms is forbidden in these areas.
Plants
Alpine flowers are much more beautiful by the wayside and in photos than faded in a backpack. In addition, there are various protected species that are not allowed to be picked. About one third of the approximately 3,000 ferns and flowering plants growing in Switzerland are now on the red list and are therefore protected plants of the alpine flora that are in danger of extinction.
Litter
Please take your litter back home with you. This also includes the remains of the apple or the banana peel. Waste has no place in the landscape. In the municipality of Surses, household waste, glass, PET and aluminum cans can be disposed of at the waste collection points. All other waste must be disposed of in the garbage dumps.
Fields and grazing land
Entering unmowed fields and grasslands is not allowed from May 1 to the end of October. Please do not leave litter or discards in nature, as it poses a danger to livestock and wildlife. Stones of all sizes thrown into meadows or pastures can cause significant damage to mowing and harvesting equipment. 
Feeding wildlife
Wildlife are very well prepared for harsh winters. They are true survival artists. But even with clever adaptation strategies, never all animals will survive the winter. Winter provides natural selection and keeps the wildlife population and its habitat in balance. Starving animals awaken a feeling of pity in many of us. With feeding, man wants to help. But animals can fall ill or die because of any feeding.  If you want to help an animal, avoid feeding it in winter and respect its natural winter range. Wildlife should not be fed in summer either.
Wild camping
Wild camping on communal land or on private land without the owner's consent is prohibited. Please use the official camping and camping sites.