Church Surses
Church of Son Mitgel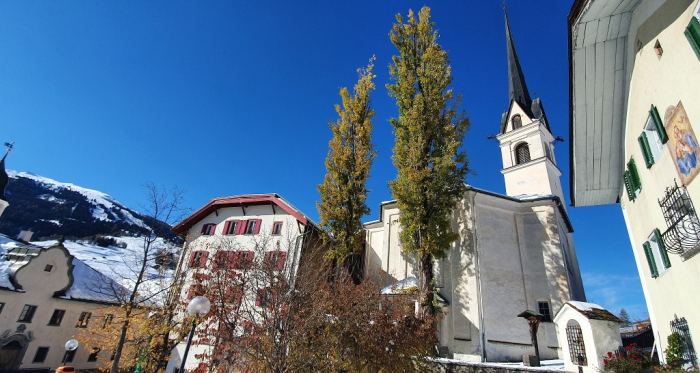 The tower between choir and ship: substructure from Romanesque times. Bell-shell with pilaster sandands and pointed helmet give it the elegance of the baroque campanile.
Church of Son Mitgel
7460 Savognin
Description
The ship's dome closes in a lantern.
At the site of today's St. Michael's Church there were already two medieval predecessor buildings. The current new building was built between 1658 and 1663. Father Francesco da Vigevano was the builder. On June 22, 1663, Bishop Ulrich VI of Mont consecrated the new church and consecrated it to the Archangel Michael. Throughout the Middle Ages, Michael appears as the protector of the pious souls and their bodies to be taken into the place of the blessed. Since Son Mitgel served from the beginning as a chaplaincy and a funeral church, the patronage of St. Michael seems obvious.
Directions
Public Transport
By PostBus from Chur to Savognin or by train from Chur to Tiefencastel. From there take the PostBus to Savognin.
Directions
By car via Thusis to Savognin.
Parken
At the mountain railways or at the Volg Son Mitgel.