Church Surses
Parish Church of Son Antoni e Son Linard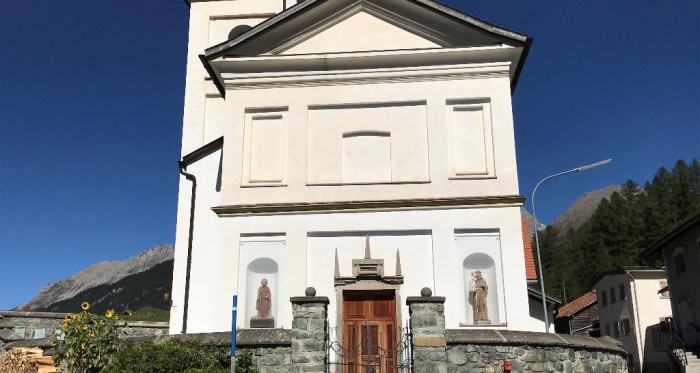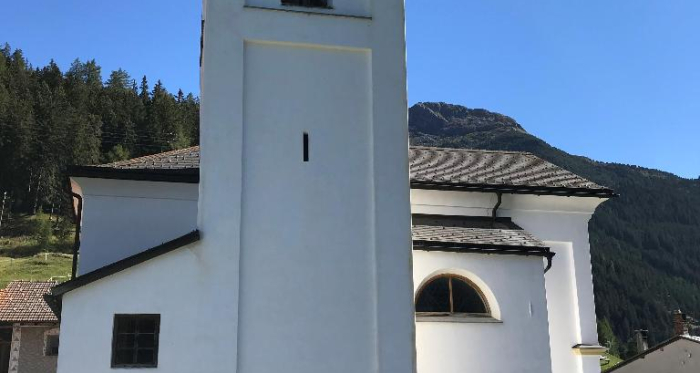 Show all 3 images
St. Anthony's Church of Rona, in the village of Ruegna. In the background Pizza Grossa, Corn da Tinizong and Piz Mitgel.
Parish Church of Son Antoni e Son Linard
7454 Rona
Description
The name Rona derives from the pre-Roman rovina and means earth-slip, sliding surface. The village consists of the Rieven on the Julierroute and the part on the terrace, which bears the name Rona. Here is also the baroque church, which was built in 1663, a Gothic predecessor building had been consecrated in 1444. The present church, with its interior and exterior design, fits fully into the features of the other baroque buildings of the Oberhalbstein.
barrel vault above the three-yoyo ship and retracted rectangular choir with cross vault. There is also a side chapel. The high altar, equipped with rocailles and swayed crowning, shows the figures of Anthony the hermit, St. Francis and Blaise. An inscription in the door fall mentions the double patrozinium. The organ brochure and the parapet of the gallery were purchased in 1884 from the Benedictine monastery of St. John Baptist in Müstair and later supplemented by a modern play. The brochure and parapet essentially determine the overall impression of the Church. A strange exchange took place between the distant Koster Müstair and the parish church Rona. A worthy ebissin, Dorothea de Albertis (r. 1666-1686) had a new organ set up during her tenure and did not forgot to have her coat of arms displayed in the brochure. And two centuries later, the Benedictine nuns left the pulpit and organ of their abbey to the mountain community of Rona. The skilful restorers knew how to transform the pulpit into a parapet for the new organ gallery and so today in the St. Gaudentius church in Rona in the middle of the parapet one can admire the coat of arms of the ebisher Augustina Troyer (r. 1733-1747), which is encompassed by columns and is richly decorated with relief.
Directions
Public Transport
By PostBus from Chur to Rona or by Rhaetian Railway from Chur to Tiefencastel and from there by PostBus to Rona.
Directions
Take the Thusis Süd exit and continue in the direction of St. Moritz to Rona.
Parken
At the cross-country skiing centre in Rona on the right.