Church Surses
Reformed parish house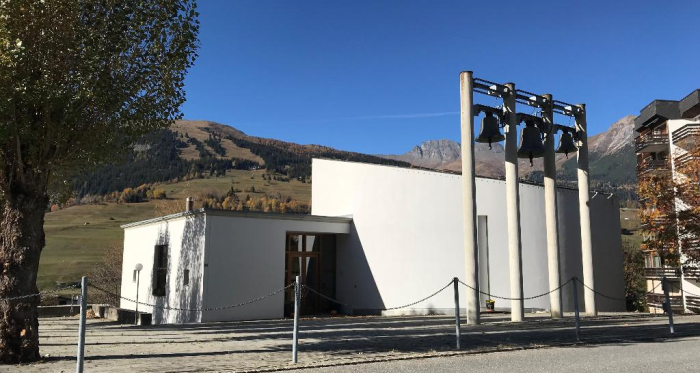 The reformed parish house is the youngest reformed church building in the region since 1987, a work of the architect Hans-Jörg Ruch, St. Moritz.
Description
On the street side (east), the dainty ensemble with its semicircular service room, the bright entrance area, the bell-bearer and the southern adjacent parking lot with the handily growing poplars stands out from its architecturally special handling. The roof of the semicircular structure rising to the west corresponds to the slope rising to the Piz Martegnas. Since the building is built on the hillside, one is confronted on the one hand with a clearly structured two-storey facade on the west side, on the other hand with the parking wall, whose straight line is emphasized by a small semicircular pulpit. From this, as well as from the large windows of the website, a wide view of the valley opens up.
The upper floor brings the already mentioned entrance part (south side), the semicircular service hall and on its south side a meeting room, which is separated from the worship hall by a wooden sliding wall. The light in the semicircular room enters on the east side through two columns of windows reaching from bottom to top, and on the west side through a window front mounted above. From the sacrament table you get a fantastic view through this window front to the summit of Piz Arblatsch. In general, the windows give the interiors a light-flooded clarity. The floor is made of black slate, the walls are plastered and painted white. The sloping ceiling, rising from the east side to the western window front, is supported by an impressive construction. In the eastern round is the sacrament table and the sermon, both rough hewn. Above the table floats a wing, a work Erika Pedrettis/Base is a gauze, clad with acrylic, reinforced with bamboo sticks, the whole thing is covered with beeswax and somewhat pollinated, this work thus has an organic expression. Thought connections arise quite well to the biblical speech of God's wings where man finds protection.