Naturlehrpfad Surses
Veia digl Pader 09: Dumengia a Salouf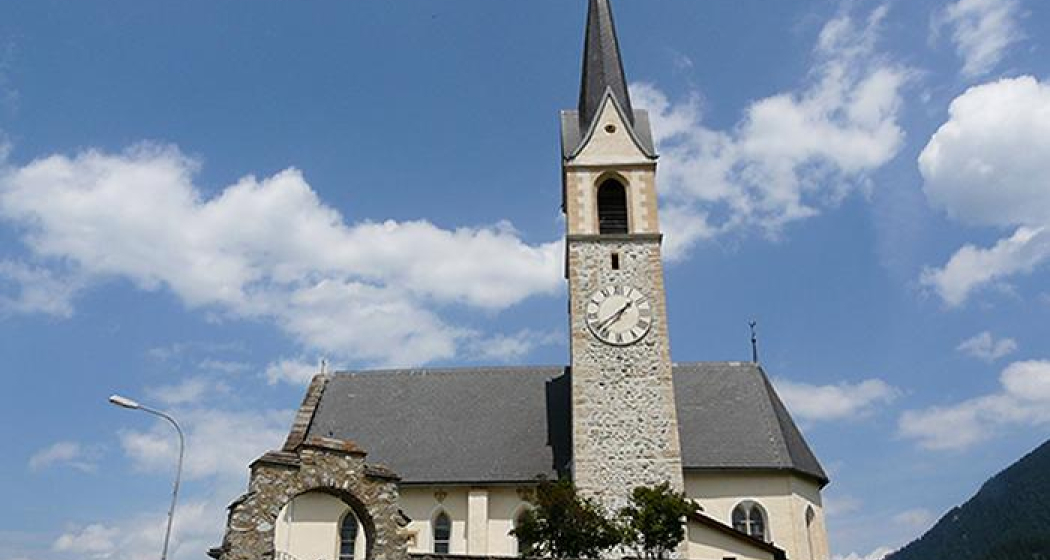 The audio file can be found at the back of the pictures.
Description
Dumengia a Salouf
Segl crest sa dolza l'alva baselgetta,
La Crousch-Clutger sagetta Seadot!
Bisond, scu aviouls, vign la glioutetta
E tschom'an lunga reia giu pigl mot.
Tot alv cun neiv! – Sfrignond vign la bargeda;
igl pi davos en pover vigl cugl gop! –
Gist scu l'arblanga sen igls ovs platgeda,
La vischnanchetta spetga giun en fop!
Chise igl Toissa arda scu barnia;
igls neivels, feman sur chel grond altar! –
Egl chegl gl'antschains da l'oraziung? – Biia
igl pievel tgi so creir; Sperar, Orar!
Fr. Alexander Lozza
Sunday in Salouf
The white church is enthroned on a gentle hill.
The old tower calls to prayer today.
He is a finger that points to heaven,
an arrow upwards from earthly distress.
A winter morning. – Like a ptarmigan,
crouches the village, awakening from the hollow deep.
At the sound of bells the children come laughing,
followed by the pious people in a long line.
The mountain in the morning light burns and shines,
the
clouds are the incense at the altar,
while the songs from the church sound.
Yes, blessed is the people who can believe.
Duri Lozza (translation)
Responsible for this content Verein Parc Ela.
This content has been translated automatically.

This website uses technology and content from the Outdooractive platform.