Free ride.
Sport bus Savognin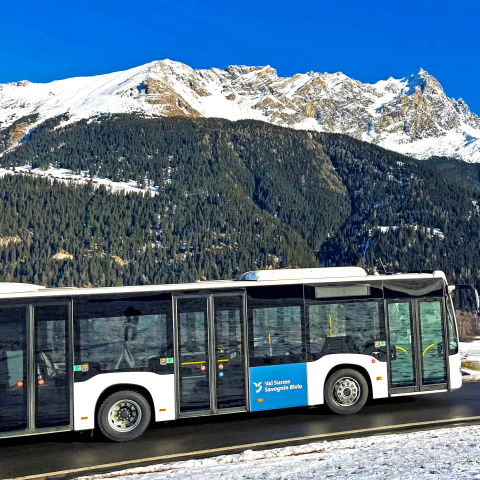 All winter sports enthusiasts have free travel with the sports bus.
Sport bus Savognin
Passengers with a guest card Val Surses have free travel with the scheduled PostBus courses to and from Savognin.
Larger groups can be transported directly to the cable cars by special transport. Information and registration at the Savognin post office. Tel.: +41 58 453 26 33
In case of course delays, connections at the Savognin post office are not guaranteed. Changes are possible in case of extraordinary situations.
Important: In order to respect the safety measures and capacity increase, between Christmas and New Year's Day, an additional bus will run without a timetable. If the sports bus is already very busy, we ask you to wait for the additional bus.
The sports bus only runs when the Savognin mountain railroads are in operation. If the operation of the mountain railroads cannot be started for a whole day due to bad weather conditions, the operation of the sports bus is also interrupted.
Sportbus Early Bird
On Sundays in February, March and April 2022, there is a sports bus for early bird skiing.
| Bus stop | Driving time February (March) |
| --- | --- |
| Savognin, Posta | 06:15 (05:45) |
| Savognin, Bursa | 06:16 (05:46) |
| Savognin, Sur Ual | 06:17 (05:47) |
| Savognin, Sot Spondas | 06:18 (05:48) |
| Savognin, Soras | 06:20 (05:50) |
| Savognin, Canetel | 06:21 (05:51) |
| Savognin, Strada | 06:22 (05:52) |
| Savognin, Tect | 06:23 (05:53) |
| Savognin, Tgampi | 06:24 (05:54) |
| Savognin, Cresta | 06:26 (05:56) |
| Savognin, Danilo | 06:27 (05:57) |
| Savognin, Surses Alpin | 06:27 (05:57) |
| Savognin, Bergbahnen an | 06:29 (05:59) |
| | | | | | | | | | | | | | |
| --- | --- | --- | --- | --- | --- | --- | --- | --- | --- | --- | --- | --- | --- |
| Bus stop | Savognin, Posta | Savognin, Bursa | Savognin, Sur Ual | Savognin, Sot Spondas | Savognin, Soras | Savognin, Canetel | Savognin, Strada | Savognin, Tect | Savognin, Tgampi | Savognin, Cresta | Savognin, Danilo | Savognin, Surses Alpin | Savognin, Bergbahnen an |
| Driving time February (March) | 06:15 (05:45) | 06:16 (05:46) | 06:17 (05:47) | 06:18 (05:48) | 06:20 (05:50) | 06:21 (05:51) | 06:22 (05:52) | 06:23 (05:53) | 06:24 (05:54) | 06:26 (05:56) | 06:27 (05:57) | 06:27 (05:57) | 06:29 (05:59) |