Top 5.
Activities for children from 5-8 years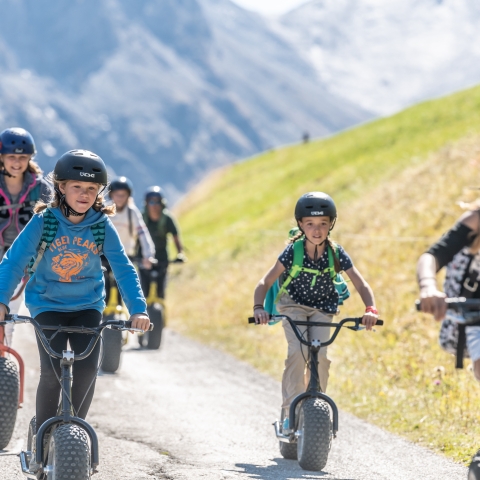 Whether in the village or on the mountain, active or rather quiet. The activities for families with children aged 5 - 8 years are almost unlimited. Whether playful exploration of the topic of biking, water games at the bathing lake with water slackline, pedalo boats, playgrounds, barbecue sites, hikes and much more.
1. Bike school Savognin
The Kids bike league is the perfekt beginning for kids between 4 and 12 years old to make their first steps into biking. Courses for all age groups and skills.
2. bathing lake Lai Barnagn
In the heart of Savognin lies the crystal clear bathing lake Lai Barnagn. It always has a pleasant temperature and is the perfect place for children who are looking for fun in the water. Because here the children can not only swim, but have the opportunity to discover the bathing paradise.
3. bike courses for kids
Does your child want to learn how to safely use a mountain bike?
Braking technique, basic position and first playful technique exercises are followed by first experiences on the trail as well as balancing exercises and simple hurdles.
4. children wildlife watching tour
Kids only! But that doesn't count for the deer and roe deer that you will hopefully see. With Jantine as your guide, you will go in search of wild animals with field glasses and a telescope. With a little luck and patience you might spot deer, geese or roe deer. Along the way, the guide will tell you exciting stories about the different animals.