So close to the stars.
Alpine hut Tgamon Somtgant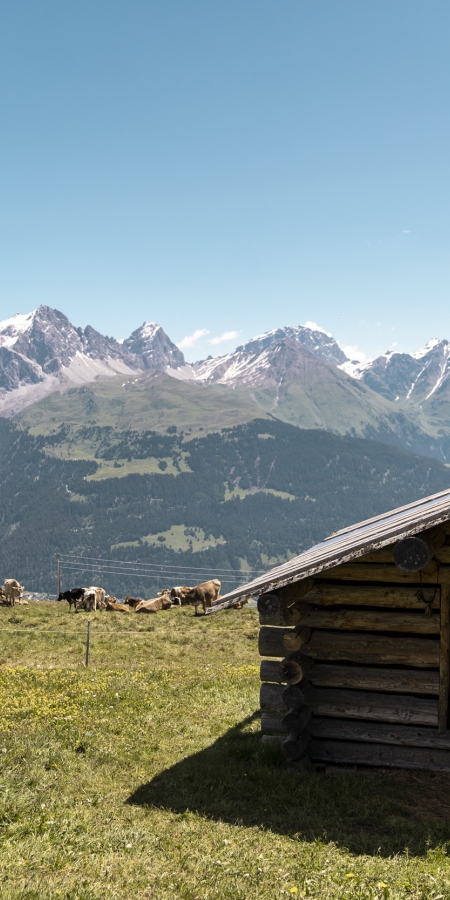 A hayloft with a view of the stars through the glass roof: this is the Tgamon on the Somtgant alp located above Savognin.
The extended hayloft is located at 2200 m above sea level and offers a unique view over the valley and the mountain range Piz Mitgel, Orgelspass, Ela and Piz D'Err. With a glass of wine and chirping crickets, you can observe marmots here in the evening and with a bit of luck you can even see grazing deer below the alp. In the past, hay was stored in the Tgamon. In order to be able to make hay already in the early morning, the Tgamon served the farmers temporarily as accommodation.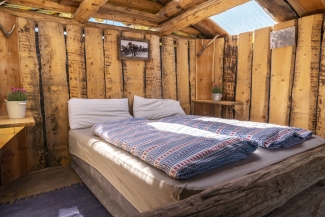 Room description
The Tgamon has a glass roof, so you can watch the night sky from the bed. The converted hayloft is equipped with:
a comfortable double bed
pillows
blankets
warm wool blankets
bedside tables
A spring is available for the evening and morning toilet. There is no shower possibility. It is recommended to pack warm clothes as the Tgamon cannot be heated. Those who wish can bring their own sleeping bag. In the morning there is the possibility to go with the shepherd and his dogs to the cattle or to the dairy pasture Naladas to look over the farmer's shoulder while milking.
The accommodation has a toilet. In addition, nearby is an alp-Beizli, which serves tasty dishes - only cash payment possible