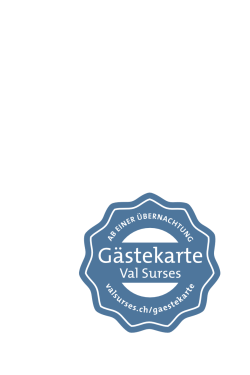 Profit from the first night.
Guest card Val Surses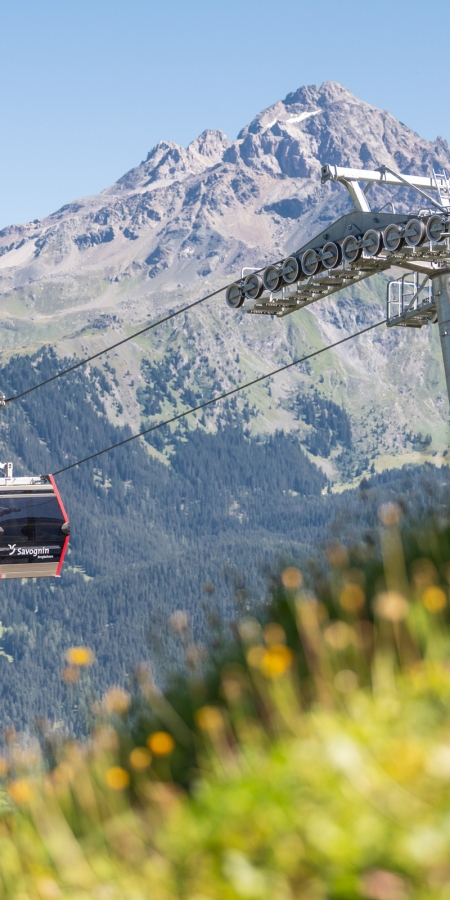 No matter if you stay in a hotel, a vacation apartment or on a campsite, you will receive the Val Surses guest card from your first overnight stay. With the guest card you benefit from different advantages and attractive inclusive services.
The post bus in Val Surses, the sports bus in Savognin, the mountain railroads in summer: with the guest card, transport is free. The best conditions to discover the heights and vastness of the valley.
Who is entitled to a guest card?
Guests staying at least one night in a accommodation facility, will get their guest card from their hotel or host. 
Second home owners, will get the information for how to obtain the guest card from the tourism office.
Permanent tenants and campsite tenants, will get the information for how to obtain the guest card from the tourism office.
Guests accommodated free of charge, will receive the guest card from their host or can buy the guest card for at least two consecutive days in the tourist office.
Residents with domicile (tax domicile) in Surses, can buy the guest card in the tourism office. Please note that in this type of guest card the postbus is not included. Residents of Albula/Alvra will get their guest card in the municipal administration.
The Val Surses guest card is personal and can not be transferred. A current ID card or a current identity card must be presented on request. This applies to the municipalities of Surses and Albula/Alvra. The new Val Surses guest card is available from May and is valid for 1 year.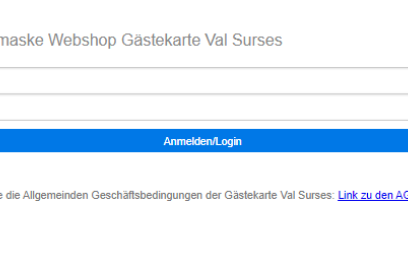 Order your Guestcard.
Only for second home owners
Second home owners obtain the guest card for themselves and their friends and family directly online via the guest card shop.
Benefits Summer 2023
Savognin mountain cableways: Free passenger transport on the Savognin-Tigignas and Tigignas-Somtgant gondola (excluding bikes, mountaincarts, scooters and dogs).
 
Postbus: Free travel on all regular Postbus routes between Salouf - Cunter, Burvagn - Savognin - Bivio - Julierpass. The Val Surses guest card can also be used as a connection ticket. Not valid for locals and groups of 10 persons or more and for the transport of bikes in summer.
 
Pinocchio-Club, Savognin (animation program for children from 3 to 12 years): Program in the high season summer and autumn. On Wednesday for the full day program, food is not included and registration is required until the evening before at the Savognin guest information.
 
Pinocchio-Express, Operates on Tuesdays and Thursdays in high season from the bathing lake Lai Barnagn a round trip through Savognin.
 
Museum Regiunal, Savognin: Free entrance to the Museum Regiunal, incl. museum guide. In summer every Tuesday evening and Thursday afternoon, in winter only on Tuesday evening. 
 
Bahnmuseum Albula: 20% discount on the entrance price
 
Biblioteca populara, Savognin: 10 media purchases per person for CHF 5.- instead of CHF 15.- or CHF 25.- discount on the annual subscription. Not valid for locals
 
Bike- & Wanderbus: For CHF 5.00 instead of CHF 10.00
 
Bus Alpin: 50% discount on rides between Sur and the Alp Flix
 

Guided hikes: (herb hike Wednesday, wildlife observation tour Friday): adults CHF 20.00 instead of CHF 30.00, children CHF 10.00 instead of CHF 15.00
 

Geissenpeter: Per Person CHF 5.00 instead of CHF 10.00
 
Good Time, Bivio: 10% discount on the E-Bike rent.
 
Hotel Post, Bivio: CHF 20.- instead of CHF 30.- for sauna and steam bath
 
Hotel Solaria, Bivio: 50% discount on the rent of the bowling alley.
General terms and conditions (GTC) and data protection regulations for the Val Surses guest card