You will profit from the first night.
Guest card Val Surses
No matter if you stay in a hotel, a vacation apartment or on a campsite, you will receive the Val Surses guest card from your first overnight stay. With the guest card you benefit from different advantages and attractive inclusive services.
The post bus in Val Surses, the sports bus in Savognin, the mountain railroads in summer: with the guest card, transport is free. The best conditions to discover the heights and vastness of the valley.
Ordering the Val Surses guest card for second home owners and guests staying free of payment
Second home owners, permanent tenants and campsite tenants
The annual card costs CHF 40.00 for adults and CHF 20.00 for children from 10 to 15 years. For children under 10 years the Val Surses guest card is free of charge. The age at the date of order is relevant.
You can save the Val Surses guest map on your smartphone or print it out on an A4 sheet. The print layout of the Val Surses guest card in credit card format. Cases are available at the Tourism Savognin Bivio Albula AG and the information point in Bivio.
Guests hospitable free of charge
If you host guests in your vacation home free of charge, such as relatives and friends, as a second home owner you can obtain the Val Surses guest card directly online with your address number and password for at least two connected days. Costs CHF 5.00 per day (must be re-solved for each stay).
Who is entitled to a visitor's card?
Guests staying at least one night in a accommodation facility
Second home owners
Permanent tenants and campsite tenants
Guests accommodated free of charge
Residents with domicile (tax domicile), without postbus
The Val Surses guest card is personal and can not be transferred. A current ID card or a current identity card must be presented on request. This applies to the municipalities of Surses and Albula/Alvra. The new Val Surses guest card is available from May and is valid for 1 year.
Inclusive services summer/autumn 2021
Savognin mountain cableways: On weekends from Whitsun (May 22-24, 2021) until July 2, 2021, and daily from July 3 to October 24, 2021. Free passenger transport on the Savognin-Tigignas and Tigignas-Somtgant gondola (excluding sports equipment).
Postauto-Kurse:Free travel on all regular Postbus routes between Salouf-Savognin-Bivio-Julierpass. The Val Surses guest card can also be used as a connection ticket. Not valid for locals and groups of 10 persons or more and for the transport of bikes in summer.
Pinocchio-Club, Savognin (animation program for children from 3 to 12 years): Program in the high season summer and autumn. On Wednesday for the full day program, food is not included and registration is required until the evening before at the Savognin guest information.
Pinocchio-Express, Drives on Tuesdays and Thursdays in high season from the bathing lake Lai Barnagn a round trip through Savognin.
Museum Regiunal, Savognin: Free entrance to the Museum Regiunal, incl. museum guide. In summer every Tuesday evening and Thursday afternoon, in winter only on Tuesday evening. 
Advantages summer/autumn 2021
Bahnmuseum Albula: 10% rebate on the entrance price
Biblioteca populara, Savognin: 10 media purchases per person for CHF 5.- instead of CHF 15.- or CHF 25.- discount on the annual subscription. Not valid for locals
Bike- & Wanderbus: For CHF 5.00 instead of CHF 10.00
Bus Alpin: 50% reduction on rides between Sur and the Alp Flix

Guided hikes: (herb hike Wednesday, wildlife observation tour Friday): adults CHF 20.00 instead of CHF 30.00, children CHF 10.00 instead of CHF 15.00

Geissenpeter: Per Person CHF 5.00 instead of CHF 10.00
Hotel Guidon, Bivio: 10% rebate on homemade nut cakes (whole cakes only)
Hotel Post, Bivio: CHF 15.- instead of CHF 25.- for sauna and steam bath and 10% rebate on the rental of an e-bike
Hotel Solaria, Bivio: reduction on the rent of an e-bike. 50% reduction on the rent of the bowling alley.
Jenatschhütte: Overnight stay at the same price as SAC members
Minigolf: Adults CHF 4.- instead of CHF 7.-, children CHF 2.- instead of CHF 4.-
Parc Ela hiking map (available at the Savognin and Bivio guest information) CHF 22.80 instead of CHF 24.80
Pilates at the lake, Savognin (Monday): CHF 10.- instead of CHF 15.-
Rhätische Bahn: 10% on all normal tickets at Tiefencastel train station (note opening hours)
Summer bus service Tigignas-Radons: 50% discount
Tennis court Savognin:Court rental per hour CHF 19.00 instead of CHF 22.00 (La Nars).
Viamala canyon: Entrance adults CHF 4.00 instead of CHF 6.00, children CHF 3.00 instead of CHF 4.00
Inclusive services winter 2021/22
Postbus courses: Free use of all regular Postbus courses between Salouf-Savognin-Julierpass. Not valid for locals and groups of 10 people or more and for the transport of bikes.
Sport bus Savognin: Free use of the sports bus. Runs according to the timetable.
Ice field in Bivio: Free entrance to the natural ice fields in Bivio. Illuminated in the evening.
Ice field in Savognin: Discounts through the guest card for the use of the ice skating rink.
Museum Regiunal, Savognin (Tuesday evening, 16.30 - 18.00). Free admission to the Museum Regiunal incl. museum guide.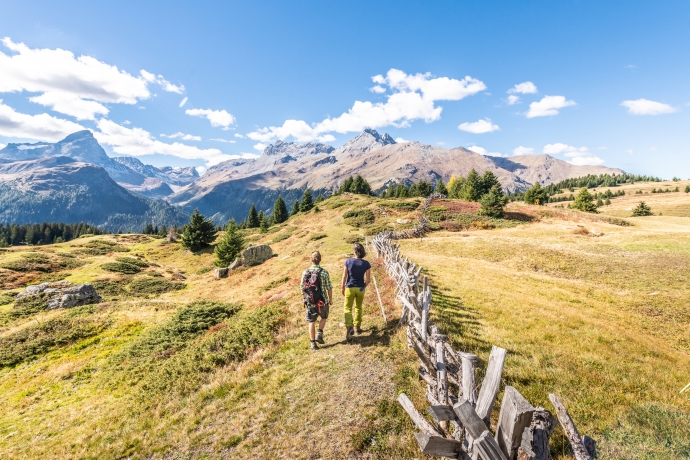 Show all 6 images